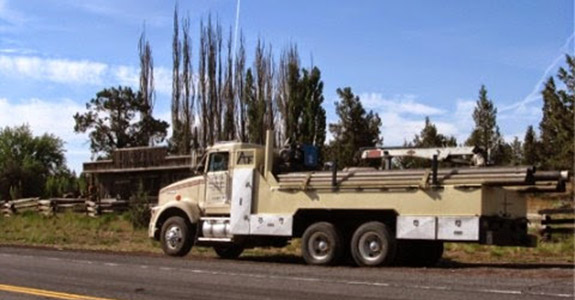 Doug Aiken
On, off and on again since 1970 Doug Aiken has worked in the water well drilling industry in Central Oregon, California, Hawaii and New Hampshire. For several decades now regional well inspectors, Central Oregon contractors, realtors and home owners have called upon Doug for all their water well drilling needs, frequently citing him as the best.
The primary reason professionals consider Doug the best is his mastery of preventing the biggest complaint in Central Oregon, "black sand" in the well water.
Doug solved the black sand problem because his early experience often taught him "how not to do things" which firmly resolved Doug to always:
do it the right way,
go the extra mile for customers,
and to cultivate respected relationships with regional well inspectors and other state and local regulators.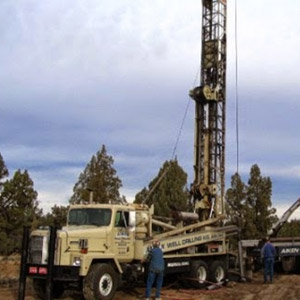 In 1972 Doug passed his well drilling license exam and every driller in Central Oregon wanted him to work for them. Davidson Drilling in Redmond employed him for 4 years where he learned a great foundation and learned how to do things correctly instead of how not to do it. As Doug says, "Luckily, doing it right is really the easiest way."
A recession hit and Doug transferred to Buckner Well Drilling in Redmond for 4.5 years. Buckner Well Drilling still exists out of Powell Butte as Western Well Development. A second, worse recession impacted Central Oregon in the 1980's and an entire year of backlog work disappeared in a few months. Buckner started taking jobs in Alaska and on the East Coast but desiring to stay closer to home and family Doug opted to drill for 6 months in California where he learned about mud drilling.
When Doug moved back to Oregon he drove log truck for Fagen Inc. for almost three years. One day Harry Fagen Sr. asked Doug, "why don't you do well drilling anymore" and the discussion progressed where Doug actually drilled a well for Harry. So impressed, Harry told Doug, "you run that thing like a typewriter." Harry gave Doug an entire log truck load of firewood for his help.
After being offered the moon to continue drilling in New Hampshire, Doug decided to stay on the West Coast and moved back down to Southern California where he drove semi-truck in construction and demolition for three years.
Prepared to finally and forever move back to Central Oregon and started his search to buy an older Cable Tool Rig to begin his own business. Doug partnered with Jack Abbas and they bought out Crawford Drilling, changing the name to "Aiken and Abbas Well Drilling." They purchased an older Rotary and worked for 5 years. Doug purchased Jack's portion of the business and Doug became a fully independent, owner/operator and changed the name to "Aiken Well Drilling."
Finally fully independent, Doug went to Ingersoll Rand in Portland and traded the old rotary rig and he purchased a brand new Drill Rig in 1996. Ingersoll Rand knew how well Doug maintained his equipment since Doug bought all his parts from them. This same well maintained rig still drills for Aiken Well Drilling today.
At the helm, Doug's business soared. His last three years before he sold Aiken Well Drilling he maintained a 3-month backlog year around, all four seasons. His accountant warned him, "it's just you Doug, you don't have to have someone helping you so you will be doing half of what you did with a partner." Doug just smiled
Doug implemented all the efficiencies he learned through the years but never had been able to implement since he wasn't the sole owner. Doug excelled and business doubled, tripled and then quadrupled from previous years. Jim Swift Steel used to deliver pipe in those days and they told Doug, "We may as well set up shop wherever you are working."
Doug sold his business in 2003 amidst caring for his terminally ill only child. In early 2014, Aiken Well Drilling was purchased by Neil Fagen with Doug as an active mentor.
Central Oregon is rejoicing with Aiken Well Drilling under new ownership and Doug Aiken again at the helm. Contact us for well drilling today in Tumalo, Deschutes County, Alfalfa, or Bend, OR, or check out our FAQ!
Neil Fagen
Doug couldn't be more excited to partner with Neil Fagen and teach him the ropes of well drilling in Central Oregon. Within the first weeks of working together Doug was already impressed that at Neil's young age he was such an extraordinarily experienced mechanic.
Like Doug, Neil can fabricate parts and weld. In the early 2000's Doug used to hire mechanics from Ingersall Rand at $110/hour from the time they left Portland until they returned to Portland to come and fix equipment in Central Oregon. Already since their partnership started, Doug was prepared to call Ingersall Rand but Neil was able to fix the problem and actually improve the function and operation of the rig to better than it was at brand new.
Neil grew up learning how to fix, fabricate and weld from his father Harry Fagen Sr., owner of Fagen Inc. He graduated Bend Senior High in 2003. At 18, Neil passed his Class A Commercial Drivers License test and has maintained a clean and safe driving record since. After high school Neil attended and graduated from WyoTech with Diesel Technology and Chassis Fabrication degrees. He translated his degree into an 8 year career with Bucky Austin Racing and Bucky's Automotive Centers in the Seattle/Tacoma area. Neil is licensed to drive professionally through the National Hot Rod Association (NHRA) to race up to speeds of 200 MPH. He traveled across the West Coast and Canada for races, managed a variety of muffler shops and learned the ropes of operating a warehouse.
Moving back home to Bend, Neil found his niche working with Doug and is excited to be a part of a Central Oregon legacy and put his variety of skills to use and service.